This morning Graeme Campbell, former Member of Parliament for Kalgoorlie, was waiting outside the Senate entrance to Parliament House. He has a full cleared security pass, but he was refused entry by the The Black Rod of the Senate. Security tried to take the copies of The Skeptics Handbooks, effectively confiscating Campbells private property. When Campbell pointed this out, they returned them, but would still not allow him in. They bluffed and told him he would be barred from all entrances. He walked around to The House of Representatives door where, as was his right, he was allowed in, and with those books.
What has The Australian Parliament come to when a former elected Member of Parliament is blocked because of the books he carries?
How dangerous can these books be? The Skeptics Handbook I & II are armed with graphs and cartoons and scientific references.  But the Rudd government doesn't want people to see them. The Theory of Man Made Global Warming is based on bluff and bluster. Only censorship and bullying can keep the other side of the story at bay.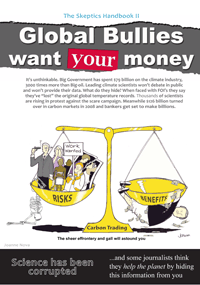 But a facade based on bullying is brittle and it is collapsing around them.
Graeme Campbell had already handed out copies to Australian Senators and the onlooking media, as they entered Parliament House this morning for one of the most important pieces of legislation in the history of the Federation. Christine Milne (The Australian Greens) refused to take a copy. Campbell dryly replied "Ignorance is Bliss." Bob Brown, to his credit, simply took one. We can only hope that he reads it. He is free of course, to find any holes or flaws and state them. It would help immensely if he could name and explain THAT mystery scientific reference with empirical evidence that no one else can find.
Indeed if Senator Brown is deeply concerned about the environment, the single most useful thing he can do to stop the rise of skeptics would be to provide the evidence that we ask for, and soundly debate the science in public. Reading the two handbooks would be a fast-track to understanding what we need.
The police asked Campbell to move on, so he asked "on whose authority?" The police politely backed away. The Black Rod of the Senate appeared, presumably at the request of one of the Senators, and ordered Campbell to leave. The sole policeman there declined to remove Campbell, and reinforcements were requested. After this, Campbell tried to enter the building with the remaining books and was illegally refused entry.
Today 150 copies of the pre-print run of the new Handbook and 450 copies of the first Skeptics Handbook are circulating around Parliament House, as an Opposition Leader's future potentially hangs in the balance, and the government tries to ram through major legislation. That according to an email I received, Louise Markus MP's office spokesperson "confirmed that ETS is an irreversible decision". (Thanks to Craig B).
Meanwhile emails are flying in from citizens demanding a stop or at least a delay to this massive irreversible legislation based on fraudulent science and an audacious bureaucratic bluff.
UPDATE: Created and offered by Mark (Thanks!)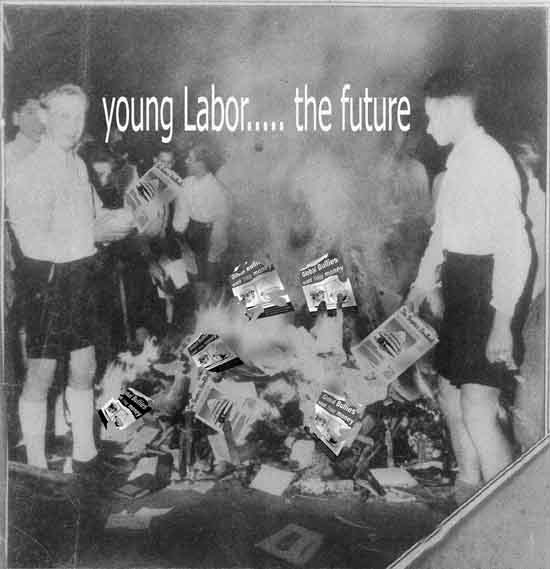 Click on it to see a close up.
UPDATE: See commments 11, 12 for breaking news. More added as it comes in.