Who knew thousands of unpaid scientists are rising in protest against name-calling bullies and rent-seekers?
Jo Nova is a prize-winning science grad and award winning blogger. Over 2 million people have visited her site. A long time ago she was a Green, and still wants to save the world, but with the scientific method (…a good civilization is going to waste.)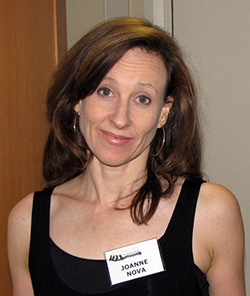 Andrew Bolt described her writing as "outstanding", and called one piece "a magnificant polemic." She's been quoted by James Delingpole, Christopher Booker, and Mark Steyn. She's been blamed for the collapse of the ETS and named in the Australian Parliament. The Oxfam report on ClimateGate news improbably listed her blog influence as being equal to NASA in the Climategate email saga. The Wheeler Centre in Melbourne listed Jo Nova as the balancing counterpoint to the combined scientific weight of The UN and government departments. She must be doing something right.
…
Her blog won Best Topical Blog of 2015, The LifeTime Achievement Award in the 2014 Bloggies and Best Australian and New Zealand Blog in 2012. Over 600,000 people visited it in 2014, up 20% on the previous year.
Dismayed at the way science was being exploited for financial gain, status and power, in 2008 she wrote The Skeptics Handbook pro bono. The booklet took off with over 220,000 copies published worldwide. It was so popular that volunteers translated it into: French, German (twice), Swedish, Norwegian, Finnish, Turkish, Japanese, Danish, Czech, Portuguese, Italian, Balkan, Spanish, Lao and Thai. Her paper Climate Money was the first to document the unprecedented rise of volunteer auditors  and independent scientists and the massive one-sided way government funding worked to distort science: supporters of the man-made climate catastrophe had been paid 3,500 times as much as skeptics (yet the skeptics were called the shills). She was also the first to spotlight the influential role of banks and financial houses who had a major stake in carbon trading.
Her articles in The Australian and The Spectator include:
She has presented speeches across Australia, in New York and Washington.
A prize-winning science graduate in molecular biology, Jo has also hosted a children's TV series on Channel Nine, and has done over 200 radio interviews, many on the Australian ABC.  She was formerly an associate lecturer in Science Communication at the ANU and is based in Perth, Western Australia.
She is married to Dr David Evans, the Stanford PhD in fourier analysis, former leading carbon modeler for the Australian Greenhouse Office. They support their own research and writing. At the moment they are living largely off donations from readers. (Thank you!)
The Blog
Jo Nova was one of the four heretics mentioned by Matt Ridley in his summation of the global effort to separate science from pseudoscience.
"The remarkable thing about the heretics I have mentioned is that every single one is doing this in his or her spare time. They work for themselves, they earn a pittance from this work. There is no great fossil-fuel slush fund for sceptics".
Jo Nova has been mentioned or referenced by The Australian [World wide web of doubt Hot and bothered , Let's have a debate, Aunty] , Forbes,  The Spectator, Mark Steyn, Andrew Bolt [here and here], ABC (the Drum1, Drum2), The Science and Public Policy Institute, The Hawaii Reporter, James Delingpole of The Telegraph (and here and here too), Christopher Booker, and The Examiner, The West Australian. Jo did a five part debate with Dr Andrew Glikson, first through Quadrant Online, then at her own blog. The Age and The Sydney Morning Herald tried to disparage her with an ad hominem. So did Clive Hamilton. Of course, Joanne has her own DeSmog Blog page (which she is quite proud of)
Jo has been interviewed on The John Batchelor Show (NY) [1] [2], the Corbett Report and with Michael Smith on 4BC and on Global Cooling Radio.
A varied career
Jo Nova is the stage name of Joanne Codling. She took up the name in 1998 for privacy reasons when she started work with Channel Nine as the host of a childrens TV series. Professionally, everything since then was done as Joanne Nova — the book, the TV series, her speaking and radio programs, and the joannenova.com.au website, which was registered way back around the year 2000.
Joanne spent five years touring Australia with Shell Questacon Science Circus. For her first full time job, she managed the half million dollar exhibition with a team of twelve. As an associate lecturer at ANU Joanne helped to develop the Graduate Diploma in Science Communication in its earliest years. Her favourite hands-on science experiments were published as a book Serious Science Party Tricks, in 2003.
Since 2008 Joanne has focused on the science of monetary systems, financial history, the gold market, and has also become heavily involved in communicating the science of carbon's role in "Climate Change". Joanne attended the UNFCCC in Bali Dec 07, has spoken in New York at the International Climate Change Conference, and to Senate staffers  in Washington DC, as well as to Australian leaders of business and banking at Consilium, for the Centre for Independent Studies.
Joanne has delivered keynote speeches at conferences on the latest advances in science. Her favourite topics include discussing the medical revolution and how we may all outlive our superannuation.
Joanne has also managed programs bringing hands-on science to street kids in Melbourne and remote Aboriginal communities as well as earning money as a cartoonist, graphic designer and illustrator. She is into liberty, health, money, history, and climate science, as well as anthropology, and Austrian economics.
---
Joanne Nova lives in Perth, Australia. She welcomes comments (but not spam) email: joanne AT joannenova.com.au (replace the 'AT' with'@' to foil nasty agents.)  She received no funding for the first Skeptics Handbook or to create this site. Donations help to cover costs, and made the second Handbook possible in late 2009. She and her husband are self employed.
Her phone number is unlisted, she does not live in Bateman or Palmyra. (Please don't phone them!).

More details about her speaking, TV, radio work and qualifications here.
About

,