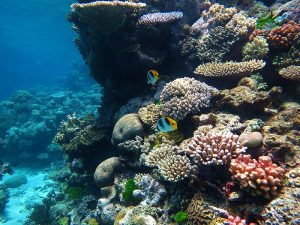 It's a miracle. It's only six months since they were elected but the Labor says Great Barrier Reef is OK now.
However UNESCO is still threatening to list it as "in danger", despite record coral cover on the Great Barrier Reef for the last two years running. The "danger" label would scare off some tourists, so the Minister is lobbying the UN to stop it.
But follow the reasoning.  The Minister is admitting that the UN listing is not about the reef itself, it's about whether they have paid enough money for UN causes or adopted the right "NetZero" liturgy.
Lydia Lynch and Jess Malcolm, The Australian
Ms Plibersek [Environment Minister] and her Queensland counterpart, Meaghan Scanlon, sought to distance themselves from the report's findings, arguing they were the result of the former Coalition government's failure to act on climate change.
"The reason that UNESCO in the past has singled out a place as 'at risk' is because they wanted to see greater government investment or greater government action – and since the change of government, both of those things have happened," she said.
Apparently the UN uses the "in danger" listing  a form of coercion to squeeze more money for their favourite causes. It's nothing about the actual reef. Nothing about what Australians want. And it was never about "The Science":
Steve Edmondson, a reef tour operator in Port Douglas, said the UN-backed report relied on old ­information gathered during a monitoring mission in March while the reef was going through a mass coral bleaching event.
UN labels are just a form of foreign interference to drum up money for friends which benefit from "climate money"– like the
Bankers who invest in renewables
, or the Chinese Communist Party that sells us the windmills and solar panels.