Skeptics Handbooks
"The science has changed since 2003″
Click here for all the translations.

Want Printed Copies?
To arrange for printed copies of The Skeptics Handbooks to be delivered to you, choose :
The printed handbooks are available in English.
Serious Science Party Tricks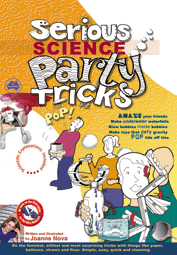 Do the funniest, silliest, and most surprising tricks with things like paper, balloons, straws and flour. Simple, quick, easy and stunning. An activity book to keep you engrossed for hours.
65 pages – over 100 illustrations – A4 size
Packed with activities like; lids that pop off tins, air-powered rockets, slime, bubbles, ice castles, straw whistles and toys that seem to defy gravity.
The book is excellent – the kids are going to love it during the school holidays! Thank you again.
Darren Brumby, 11 Sept 2008.
Price: $14.95 AUD plus $2.50 postage (Australia)*
To Order: Use the buttons here with Paypal at the bottom of this page.