Things are still not looking good in Texas.
At the peak demand on Sunday in Texas the people were using 70 Gigawatts of electricity — an all time record. Then both wind and gas generators failed. Currently the ERCOT Grid is using about 42GW of electricity and ERCOT reports of up to 46 GW of generators being out of action. Total wind output is still under 3GW out of 30GW* of wind capacity.
The gas was the back up to the Wind, but Wind power can't be a back up to the gas (or anything else).
An ERCOT press release claims that they still have to loadshed 14,000MW which means 2.8 million homes.
"As of 9 a.m., approximately 46,000 MW of generation has been forced off the system during this extreme winter weather event. Of that, 28,000 MW is thermal and 18,000 MW is wind and solar."
It's not clear to me how they arrive at only 18,000 MW missing of wind and solar. Perhaps they are only counting the 6 or so GW they expected to be able to use of windpower?
There is so little power that the electricity companies can't even rotate the blackouts between suburbs without dropping out critical infrastructure. Apparently the wind has stopped and the  wellheads are frozen over.  The amount of coal power in Texas has halved in the last decade, while the amount of wind power has tripled.
I expect right now ERCOT might be happy to hear any proposal to Build A Gas Line from, say, Canada.
Two days without electricity or water in sub-zero temperatures is not just a blackout
With 20 dead already, there must be more to come. Life in Woke World 2021. Tragic in so many ways:
Winter Storm Creates Havoc, Wall Street Journal
Robert Lewis, 40, a cook and retired Marine, said he and the friend he was staying with had been without heat or water for more than 48 hours. They had had little to drink. His cellphone died, so he had no way to call for help.
"All we could do was grab every blanket, every jacket that we could, and huddle up," he said.
He had heard people tell of a lone 7-Eleven that was open, so he walked there, only to find a line around the block to get in and the shelves cleared of food, he said. He added that he got the last cup of coffee for sale. He was evaluating his next move, saying he would keep looking for supplies.
"I'm going into survival mode," he said.
There are stories of pain on Twitter: 
People are very angry the pain is not being shared across all suburbs. Replies to ERCOT are a rolling wall of fury.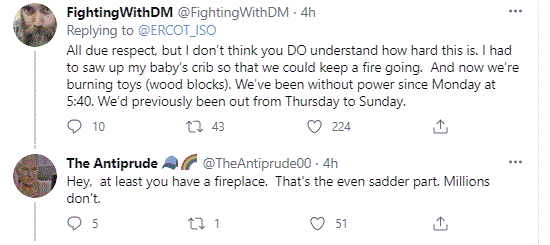 Then there are people with animals who will not leave them to die, sending their last message because the battery is going. Praying. Just read the replies! 
Officials "hope" the ice will melt off the wind turbines:
Wind production isn't the only problem Texas faces but that 30GW of infrastructure isn't there when Texans need it. What kind of infrastructure operates at only 3% of capacity randomly?
Some people are getting the extended not-so-rolling form of blackout. They are the ones who live in places without hospitals, fire stations, and other important infrastucture. There is so little power that the electricity companies can't rotate the blackouts without dropping out critical infrastructure.
On Tuesday afternoon, grid officials said between two and three million people were without power.
About 45 gigawatts of power were offline due to the cold. Local power companies were having difficulty rotating blackouts. This meant some homes and businesses were without electricity for hours, while others never lost it.
Local utilities kept power on to neighborhoods with hospitals, fire stations and water-treatment plants. Most other areas were blacked out. There was so little extra power that utilities couldn't rotate the blackouts among neighborhoods that didn't have critical infrastructure, leaving some homes without power for more than 24 hours.
Texas's energy emergency could last all week as the weather is forecast to remain frigid. "My understanding is, the wind turbines are all frozen," Public Utility Commission Chairman DeAnn Walker said Friday.
….coal's share of Texas's electricity to plunge by more than half in a decade to 18%.
Wind's share has tripled to about 25% since 2010 and accounted for 42% of power last week before the freeze set in.
Enormous new demand coupled with constrained supply caused natural gas spot prices to spike to nearly $600 per million British thermal units in the central U.S. from about $3 a couple weeks ago. Future wholesale power prices in Texas for early this week soared to $9,000 per megawatt hour from a seasonal average of $25.
*Typo corrected: 30GW was incorrectly 30,000GW originally.  h/t Peter Fitzroy.