We may have to fix the sleep deprivation to fix the cultural apathy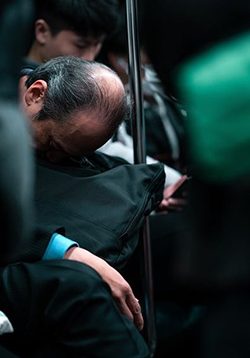 Listening to a sleep specialist I was struck that so much of our civilizational decline mirrors the effects sleep deprivation has on individuals. The sleep researcher even used the phrases "deviant" and "social loafing". Tired people free-load on the team and are more likely to make false claims. It amplifies the worst of "The Welfare State".
A sleep deprived nation is a fatter, less productive, less creative and less motivated country. Sex hormones are reduced, blood sugar is raised, immunity suffers, self control is reduced, and anxiety increases, as does every marker of suicidal ideation. Food choices become more hedonic. Self discipline suffers. Declines in sleep must surely also explain part of the testosterone drop that modern civilization seems to be suffering from. Blood tests show being tired is medically a form of premature aging — albeit, hopefully, temporary.
Professor Matthew Walker argues that sleep is more important than food or exercise and yet we are ignoring it. Every species on Earth needs to sleep. If it were not essential, evolution would have found a way to get rid of it, or reduce it, because it is a costly behaviour. Sleeping animals are more vulnerable, seemingly unproductive, they're not raising babies, or bringing in food.
Walker doesn't say it, but what's good for a corporation is surely good for a nation
All the things that make companies more profitable and reduce their health care costs surely apply to whole countries? NASA research in the 1980s found that 20 – 60 minutes sleep improved productivity by 34%. It increased general alertness by 50%. The results were so stark NASA even transferred these findings to work conditions for people on the ground. "NASA naps" became a thing.
The five reasons a lack of sleep is worse for productivity:
When employees undersleep they choose less challenging problems, they check their emails but they don't tackle the deep issues. Secondly, tired people produce fewer creative solutions. Thirdly, in teams, those who sleep less slack off, they freeload on other people. Fourthly, they are more deviant, they're more likely to fudge data, to claim reimbursements they don't deserve. Finally, the leaders who get less sleep are rated as less charismatic by employees, even though the employees don't know how much sleep their CEO got that day.
Plus workers who sleep less take about 11 more sick days annually. And they use health care resources 80% more than well rested people. Their obesity and mental health is worse. (This is discussed at 42 – 48 minutes in the video.)
Doctors are only given about 90 minutes of sleep education in their entire degree yet it's one third of their patients lives. Children aren't taught much about sleep at school. No nation seems to have a public campaign to increase sleep, yet they have programs to boost exercise, reduce drinking, stop smoking, eat better and drive slower.
Dr Matthew Walker is a Berkley neuroscientist and sleep specialist.

Diary of a CEO interviewer is Steven Bartlett, UK tech entrepeneur.
The video is surprisingly compelling.
He's an excellent speaker, with lots of research and no finger pointing lectures.  We spend a lot of time here wondering why so many in society seem so apathetic, or careless or corrupt. Maybe a tired population is a compliant distracted one and maybe we should be doing something about that.
If I were an adversary of the West, I would do everything I could to encourage their sleep deprivation.
Night owls and larks are coded in our genes

Chronotypes, meaning whether you are a night owl or a lark —  are built in genetically — probably because tribes were so much better off if they had someone awake at most hours of the clock, rather than all sleeping for the same 8 hours. Tribes with mixed sleeping patterns were less likely to be surprised in a bad way.
Divorce papers suggest that one third of divorcees mention sleep incompatibility. Walker suggests a sleep-divorce (sleeping separately) might be useful before people have a real divorce.
A quarter of couples sleep in different rooms. People sleeping apart from each other report getting better sleep, and probably have higher libidos due to that. But people sleeping together report feeling more satisfied about sleep.
I listened to the whole 2 hours as a podcast, which I almost never do. People interested in Alzheimers may want to listen from 1:30 onwards.
The timeline of topics are listed below (bolding mine).
Are we sleeping less?
The interview doesn't discuss whether we are sleeping less than we did 100 years ago, but a search doesn't turn up a lot either. One review of research papers suggests we're not, but most of the data comes from sleep labs, not people at home in their daily lives.
Apparently there is very little data about how many hours of sleep people got in 1920 or 1950 and so on, and "hours in bed" is not the same as "hours asleep" which is hard to get without a sleep tracker. At least one Gallup poll suggests people thought they got more sleep in the 1940s.
Eighty percent of people in 1942 said they slept more than 7 hours a night. But now less than 60% percent at most say that. Four times as many people now say they are sleeping six hours or less.
Sleeping man on train image by abdulla binmassam.