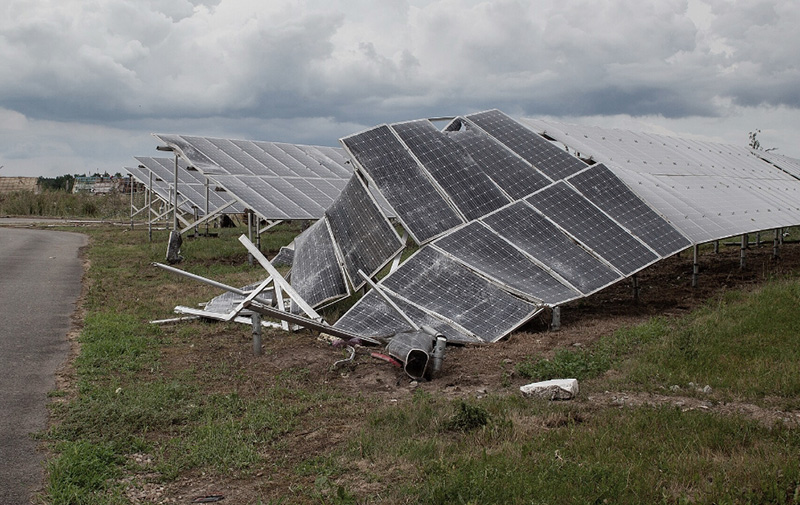 It seems people only wanted renewable energy if they got cheap loans
Just as the quarterly reporting season revealed crippling losses for wind power and EV's, so it is with Solar energy.
The general US S&P shares index gained 15% this year but The Invesco Solar ETF (Fund) which invests in solar energy stocks around the world — fell by a dire 40%. Even the US "Inflation Reduction Act" couldn't save the solar sector. As finances tighten with rising interest rates, apparently solar panel orders are among the first to be cancelled.
Some of the worst performers in the whole US share market are solar shares, with SolarEdge and Enphase losing 70% each this year.  A few weeks ago, the CEO of SolarEdge said revenues this quarter were about half of what was expected. He blamed  "unexpected cancellations" from European distributors. But US demand was down too. Indeed, the bad news started in California, the largest market in the US, when the government slashed home solar  "net metering" payments in April by about 75%. Suddenly, it was going to take 10 years to pay off the panels. Solar panels were a luxury item.
If only solar panels were cheaper, in tough economic times, everyone would want them.
by ZeroHedge, Oil Price
The renewable energy industry is in full collapse mode this week. First, Orsted A/S, the world's largest offshore wind farm developer, abandoned two major US projects due to supply chain and interest rate impacts, and now solar stocks are being clubbed like a baby seal in US premarket trading on Thursday after solar equipment-makers SolarEdge and Sunrun reported dismal guidance amid waning demand.
That's a nasty surprise:
Let's start with solar equipment maker SolarEdge Technologies. The company said current quarter revenues are expected between $300 million to $350 million, far below analysts' estimates of $718.9 million, as per Bloomberg Consensus data.
This has been a sharp turnaround in the solar industry. The rocket-like growth of 2020 has collapsed. And as long as interest rates are high, nobody is talking about a fast recovery:
What happened to solar stocks? Investors 'pick up the pieces' after a brutal earnings season
Claudia Assis reports at Marketwatch,
Just about every major U.S. solar company had big quarterly misses…
Shares of Enphase Energy Inc. ENPH, which sells microinverters widely used in solar-power systems and can stand in as a barometer for solar, among other wares, are down more than 70% in the year. As recently as 2020, the stock drew triple-digit yearly gains; it rose 45% last year.
SolarEdge Technologies Inc. SEDG warned late last month that starting in the second half of the third quarter it experienced "substantial unexpected cancellations and pushouts of existing backlog" from our European distributors, a dip it said wasn't related to the Israel-Hamas war.
Some residential solar companies in the US are down 55-70% too. These are terrible numbers.
Beth Kindig, Forbes
Solar is arguably one of the market's most sold-off industries at the moment,…
SolarEdge and Enphase are among the S&P 500's worst performers this year, falling more than 70% each; a significant weakening in US demand starting in Q2 worsened with weakening European demand in Q3, causing revenues to nosedive. Residential solar companies SunPower, Sunrun, and Maxeon have all declined more than 55% to 70%, as well.
The decline was sudden in Quarter 3. What was a 25% growth in quarter two, became a 34% fall:
Enphase echoed SolarEdge's commentary about weakening EU demand, as European revenues fell (34%) sequentially in Q3, after recording +25% QoQ growth in Q2. That's a pretty swift QoQ decline in European revenues, which Enphase attributed to "high inventory at our distribution partners along with a softening in demand in our key markets – the Netherlands, France, and Germany."
The near-term outlook for solar has definitely taken a hit from high rates impacting demand – a forecast from Wood Mackenzie/SEIA is pointing to a YoY decline in US residential solar installations in 2024, weighed down by a sharp contraction in California. Overall, the group expects installations to drop (4%) in 2024, dragged down by a (38%) contraction in California primarily due to the shift to NEM 3.0.
________________________________________________