By Jo Nova
It's dire. After suffering a 36% fall in June due to unexpectedly bad maintenance bills, Siemens Energy has lost another 37% on Thursday as it revealed orders and revenue would be even lower than the current subdued expectations. The share that sold for 24 euro in May is now selling for 7.
Things are so bad Olaf Scholz, Chancellor of Germany has even said Siemens Energy is "very important".  Apparently talks are "intensive", which presumably means the company is on death's door and the German government is being asked to help save it.
And so we arrive at a point where a company selling products that depend on government subsidies is now asking to be subsidized itself. And the whole green industry depended on government pumped "science" and artificially low interest rates to exist in the first place. Like a pyramid scheme skiing on a two ponzi scams, sooner or later it has to collapse.
Tyler Durden, ZeroHedge
Siemens Energy shares in Germany crashed on Thursday after the company warned its wind turbine business is grappling with quality issues and offshore ramp-up challenges. The company said it's evaluating various measures to strengthen its balance sheet and is discussing state guarantees with the German government. This comes as a financial crisis in offshore wind energy is brewing.
The word is Siemens Energy is asking for up to 15 billion euros in guarantees.
UPDATE: Siemens Energy is a spin off from the larger separate giant Siemens which has a market cap of  100b Euro and 300,000 employees. The smaller energy division has 90,000 employees and a market cap of only 7b Euro now, but it was 30b a few years ago.  Siemens still owns 25% of the spin off energy division.
The whole wind industry is down
Even the Guardian is asking if something is is wrong in the whole wind industry, albeit only as means of paving the way to ask for bigger subsidies.
The windmill business has not recovered from the Siemen's June shock that bigger turbines was not always better, and ominously something was wrong which would cost an obscene amount to fix. It didn't bode well that the problem was narrowed down to either the rotor, the bearings "or the design"– which covered pretty much everything. By August Siemens Energy announced a jaw dropping annual loss of €4.5 billion.
Confidence is gone. In July the Swedish energy giant Vattenfall stopped work on the offshore wind farm plans off Norfolk.  In August the Danish wind firm Ørsted lost 25% after it revealed it may have to write off " the value of its US portfolio by nearly £2bn."  The share market was so skittish it wiped off nearly £7bn in value that week. Overall the Ørsted share price has dropped by two-thirds from its peak in early 2021.
The latest headlines on Orsted, say it all:
A week ago Deutsche Bank  "slashed its 12-month share price forecast for Danish energy giant Ørsted by 36%, citing supplier delays, lower tax credits and rising rates." — CNBC
Things haven't exactly been good for Vestas either:
Vestas is also down 30% this year.
This is the rotor of the newest, largest offshore Siemens SG 14MW . Look how big these machines are.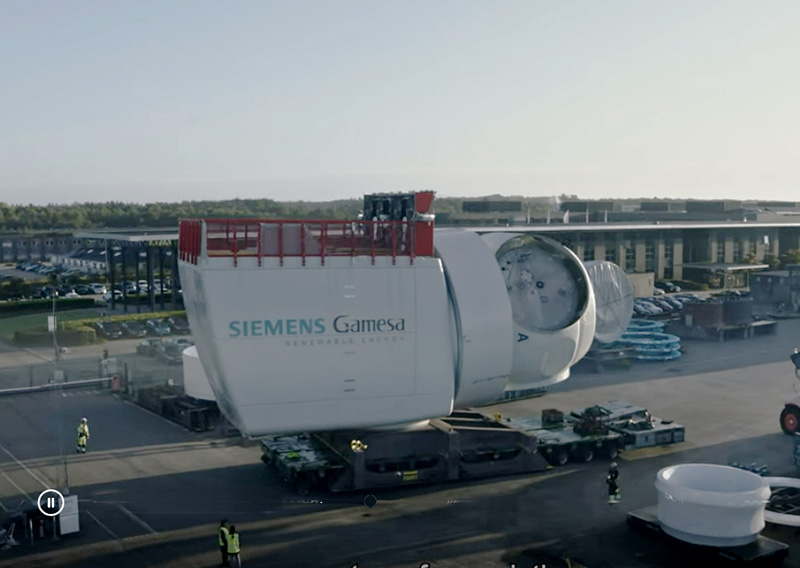 It will theoretically end up propped up on a stalk 140 meters high over the ocean waves, or something like that. The blades are 115m long. Imagine fixing it.
h/t StJohnofGrafton