For the first time in 163 years of records at Sydney Observatory the temperature didn't even crack 32 degrees C (or 90F) for the whole year of 2022. Despite CO2 being at higher levels than ever, Sydney has never had temperatures that were so un-extreme.
The hottest day all year at this historic site was just 31.9 C. When researcher Chris Gillham first mentioned this, I assumed he must have meant "for the month of December". I could not believe Sydney would go a whole year without a single hot day, but here it is. Gillham graphed the hottest day of the year at Sydney Observatory every year since 1859 and it really is unprecedented.
So far the total media attention on this point is one tweet by a weatherzone meteorologist and a paragraph in  The Sydney Morning Herald. (h/t b.nice and RealClimateScience).  Has the BoM even said a word? If it was the hottest year in 163 years, we'd know all about it. The BoM is an advertising agency for government policies.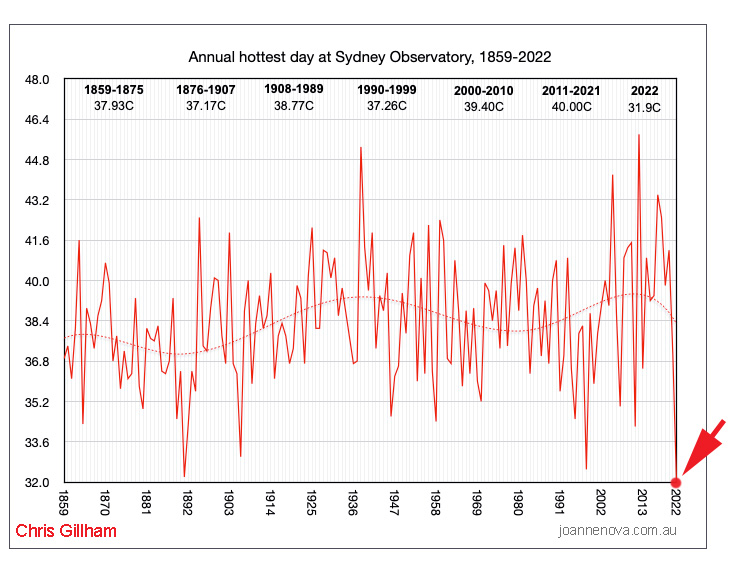 And this is despite many site changes which make the site warmer, including all the concrete, bitumen and 6-lane freeways added in the area. During the time shown in the graph, Sydney grew from 95,000 to 5 million people.
Sydney Observatory is right in the heart of city, surrounded by cars and yet it would have felt hotter there in 1859.
Soon children won't know what summer is… 🙂
Most years in Sydney there are 6 to 20 days of temperatures above 32C. Many thanks to Chris Gillham for doing all the work to make these graphs.

What happened to that extreme heat?
The reason for the lack of hot days is due to the record amount of rain. In 2022  2,530 mm of water fell on Sydney, breaking the previous rainfall record of 2,194mm set in 1950. When soils are wet, sunlight must evaporate the moisture before the soil and air above it, can start to heat up. So more rain means cooler maximums.
To get hotter maximum temperatures takes bone dry sand. If only the Bureau of Meteorology could predict rainfall, droughts and La Nina's, they might also be able to predict which years would have extreme heat? Wouldn't that be handy?
Instead, the models are so bad, even the expert climate modelers don't want to use their own models to help invest their own retirement funds.
For most people under 70 in Sydney this has been one the three coolest years they've ever known
Background information:
BoM Sydney Observatory site (closed) with the new BoM site
In 2017 and 2018 Bill Johnston documented the many site changes and the full history of this iconic site.  If only the BoM were as interested in the history as the volunteers are?
*Edit: BoM auditor changed to "researcher". Chris Gillham has been a volunteer critic and auditor of the BoM for years but prefers to be described as a researcher.