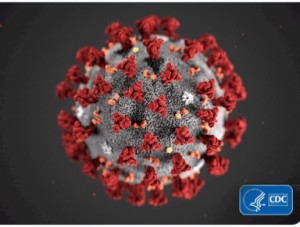 For months there have been rumors that Coronavirus leaked from a Chinese lab. The only P4 (high security lab) in China happens to be in Wuhan, near the fish markets and people there happen to be working on synthetic coronaviruses with S proteins that happen to infect ACE2 receptors in humans. But if Mother Nature wanted to generate her own viruses, it's hard to beat wet markets in high density Chinese hubs. And there were papers too saying the gene analysis, etc, fitted 96% with the bat-pangolin-human story.
But now we find, long before the CCP was asking for sympathy, authorities were asking the staff to destroy all those lab viruses:
"Existing virus samples must be destroyed. Information about the samples, related  papers and related data are all prohibited from release. "
— Hubei Health committee on Jan 1st. (See the Epoch Times Documentary below).
And told the staff to say nothing to anyone, anywhere, anytime, ever:
"Notice regarding the strict prohibition of disclosure of any information related to the Wuhan unknown pneumonia.
National Health Commission clearly mandates that all detection, empirical data, results and conclusions related to this outbreak cannot be published on self-media or social media, nor disclosed to any media (including state media) or collaborative organization s (including any technical services companies)." 30 minute mark.
  — Email from  The Director General of the Wuhan Institute, Jan 2nd, 2020
So the Wuhan lab was ordered to destroy all their synthetic Coronaviruses on Jan 1st. Which is a strange thing to do if a similar, but different virus was evolving in the Fish Market around the corner. But it's the obvious thing to do if a careless lab member made a mistake and leaked it from the lab. Especially if those viruses had distinctive HIV sequences embedded in them. Which the man who discovered HIV says they do.
Dr Luc Montagnier the man who discovered the HIV virus back in 1983 disagrees and is saying that the virus was man made.
According to Professor Luc Montagnier, winner of the Nobel Prize for Medicine in 2008 for "discovering" HIV as the cause of the AIDS epidemic together with Françoise Barré-Sinoussi, the SARS-CoV-2 is a virus that was manipulated and accidentally released from a laboratory in Wuhan, China, in the last quarter of 2019.
"With my colleague, bio-mathematician Jean-Claude Perez, we carefully analyzed the description of the genome of this RNA virus," explains Luc Montagnier, interviewed by Dr Jean-François Lemoine for the daily podcast at Pourquoi Docteur, adding that others have already explored this avenue: Indian researchers have already tried to publish the results of the analyses that showed that this coronavirus genome contained sequences of another virus, … the HIV virus (AIDS virus), but they were forced to withdraw their findings as the pressure from the mainstream was too great. —  The podcast is in French
Worth watching: The Epoch Times Documentary on the Origin of CCP Virus (Coronavirus).
The Epoch Times are an organization of dissident reporters, staunchly anti-communist.  They interview medical and political experts and we also find out the Chinese lab was set up with some US funds and with a lot of French support.  Obama cut off funds in 2014. But the West has made it as easy as possible, offering help, expertise, and training.

…
Patient zero may have been a scientist at the P4 virus lab in Wuhan called Huang Yanling who unfortunately died. The Director of the Lab, Dr Shi Zengli — was the person who isolated a virus from bats that has the key S Protein spike that enables a bat virus to get inside human ACE2 cells. In February, after her institute had "nothing to do with the outbreak" she was sacked, presumably because she did such a good job. Her replacement was Major General Chen Wei. It's interesting to know when the military are doing the microbiology?  (h/t JanEarth)
Steven Mosher argues that leaks have happened before in China; that Xi suddenly improved biosecurity in labs on the 14th of February, and some researchers have even been caught selling lab animals to wet markets:
Some Chinese researchers are in the habit of selling their laboratory animals to street vendors after they have finished experimenting on them. You heard me right.
Instead of properly disposing of infected animals by cremation, as the law requires, they sell them on the side to make a little extra cash. Or, in some cases, a lot of extra cash. One Beijing researcher, now in jail, made a million dollars selling his monkeys and rats on the live animal market, where they eventually wound up in someone's stomach.
According to Mosher, in mid February President Xi decided China needed "A national system to control biosecurity risks" … "to protect the people's health," Xi said, because lab safety is a "national security" issue. 
Professor Richard Ebright of Rutgers University's Waksman Institute of Microbiology, a biosecurity expert — thinks it was an accidental leak too.  He says the Nature paper claiming SARS Cov-2 is natural has to rely on a bunch of assumptions:
…  points out that scientists in Wuhan have collected and publicized a bat coronavirus called RaTG13, one that is  96 percent genetically similar to SARS-CoV-2. The Nature Medicine authors are arguing "against the hypothesis that the published, lab-collected, lab-stored bat coronavirus RaTG13 could be a proximal progenitor of the outbreak virus." But, Ebright says, the authors relied on assumptions about when the viral ancestor of SARS-CoV-2 jumped to humans; how fast it evolved before that; how fast it evolved as it adapted to humans; and the possibility that that the virus may have mutated in cell cultures or experimental animals inside a lab.
Obviously there will be a lot more to say about this. Especially because Donald Trump says he will look very closely at whether Coronavirus came from the Wuhan lab.
It's officially denied:
Chinese foreign ministry spokesman Zhao Lijian said on Thursday: "I want to remind you that the head of the World Health Organisation has stated many times that there is no evidence that the new coronavirus was produced in the laboratory. Many well-known experts in the world also believe that there is no scientific basis for such claims as laboratory leaks."
"We stand together to strongly condemn conspiracy theories suggesting that Covid-19 does not have a natural origin," a team of 27 scientists from outside China said in a statement in the Lancet medical journal in February.
"Conspiracy theories do nothing but create fear, rumours, and prejudice that jeopardise our global collaboration in the fight against this virus," they said, adding that scientists from around the world overwhelmingly conclude that the coronavirus originated in wildlife.
Looks like a "Consensus" then, and Scientists-Against-Trump have spoken. It would be better if they could have debated it out so we could hear both sides. There are quite a few papers that at a glance make a solid case for the natural evolution of the virus. Eg Zhou et al 2020, and Prof Lu et al.  But instead the scientists have flipped straight into lectures about how only bad prejudiced people would ask these questions.
People inside China and out of it are going to get very angry if they don't get some good answers.
h/t Lance, WXcycles, JanEarth OriginalSteve, many others.