Free Speech is terrifying for bullies with no answers
It's a travesty: Imagine if any old former President could say what they thought to anyone who wanted to listen?
The Elon Musk deal is on again, and Johnathon Turley has noticed that many in the media are not looking forward to having more freedom to express themselves on Twitter. Nothing says "propaganda hack" better than the journalists who want a safe-space so that people won't be able to correct them, mock them, or report the news better than they do.
Free Speech is dangerous (for people who are corrupt):
by Johnathon Turley, ZeroHedge
"Be afraid, be actually afraid."
Those words from former Politico Magazine editor Garrett M. Graff captures the hyperventilation in the media week. No it is not Vladimir Putin's threat of unleashing a nuclear war or the word that our national debt has reached a staggering $31 trillion. No, it is the news that Elon Musk may go forward with the purchase of Twitter and . . . [triggering warning] . . . free speech protections might be restored on the platform.
There really is panic. Think about how poor journalism-school is when journalists say these things in public forums:
BBC journalist Dickens Olewe warned that "Guardrails will be dropped, misinfo & conspiracy theories will thrive. No functional alternatives available, this is it: a complete destruction of the global public square. Been nice y'all."
PoliticusUSA head Sarah Reese Jones seemed to move from the desperate to the outright delusional: "Before 2020, Facebook deplatformed progressives, then it came for mainstream media and elevated only radicalized conservatives. Cut to 2022, we know Elon Musk plans to do same with Twitter. We know how damaging it will be.Tech giants pose ongoing threat to western democracy."
That's right, social media companies have been favoring conservatives and targeting progressives. That is why a wide array of conservative groups and figures have been banned or suspended. That is why the Hunter Biden laptop was buried before the election. That is why there are now numerous reports of backchannels with the government in censoring opposing views.
Euronews correspondent Shona Murray tweeted, "The end of Twitter as we know it is nigh."
Ben Collins from NBC News, with no sense of irony — "it could affect the midterms"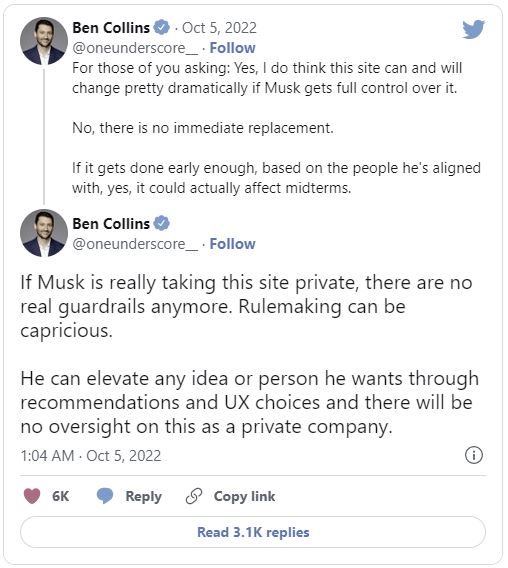 Meanwhile many conservatives on Twitter are noticing their accounts are shrinking today. Is management deleting some bots?