The Witches and Warlocks of The Australian Academy of Science are worried. Even though the evidence is overwhelming and settled,  climate denialism is spreading. This is particularly perplexing because climate believers have unlimited access and free advertising in the media, and millions of dollars in government support. Despite all that, Australians must be too stupid and badly educated to recognise the True Weather Prophets that live at the Martian Embassy in Canberra and so they have given up trying to persuade the idiot voters.  The new genius plan is to get the tech Tyrants like Twitter and TikTok to shut down Australians who ask impertinent  questions or talk about the solar wind, the 1809 Windsor Flood or the 1852 Fires and other blasphemies!
Thou Shalt Not Question the Sacred Guild of Science Heads!
I thought they might want a new logo to reflect their true heritage: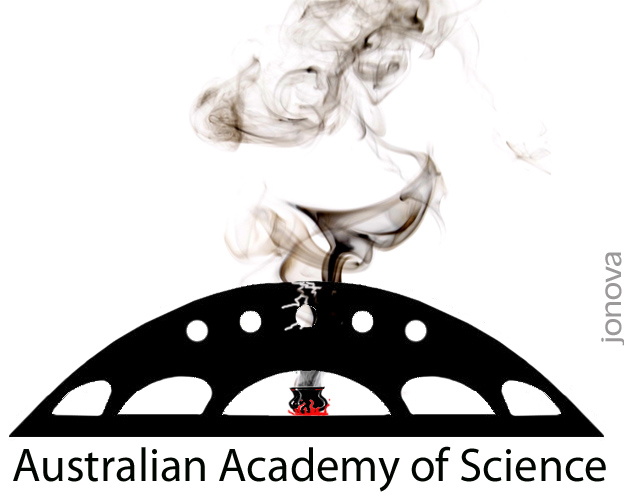 Thanks to Tony Thomas for putting on the Hazmat suit and wading through the brew of petty namecalling and mangled English of what once was a society of great scientists.
Tony Thomas, Quadrant Magazine

In a move unprecedented in the democratic world, the Australian Academy of Science is lobbying the tech giants Meta (Facebook), Twitter, Google, Microsoft, Apple, Adobe and TikTok to censor and harass  any Australians who circulate what the Academy insultingly labels "climate denialism misinformation".[1]
Get ready to be inoculated…
It wants the Big Tech giants to "inoculate" Australians against critics of alarmism by "actively promoting reliable, peer-reviewed and appropriately labelled material from trusted sources," presumably the Academy and its followers. "These positive measures should be in addition to measures to reduce the spread of disinformation."
The Orwellian agenda is in the Academy's public submission to the tech giants' 2022 review of the Australian Code of Practice on Misinformation and Disinformation.
The Code currently excludes professional news content that is published under a publicly available editorial code, except where a platform determines that specific instances fall within the scope of disinformation. However, some Australian news outlets are havens for climate science misinformation (Lowe, 2018) – so this exclusion undermines the ability of the Code to guard against such denialism.
This exclusion allows climate science denialism and other misinformation to flourish….
Which exclusion? That would be "Professional News Content". The AAS wants to stop the free press from assailing its members with questions that make them look like pork chops. Won't every industry want that?  Coming soon, don't question the PM?
And how do we determine what is professional news and what is climate denialism? Easy, the magic industrial filter of peer review. To get someone banned, all we need is for a  left wing extremist academic to published a paper exposing some dark "haven" (their word, not mine). Then voila, the journalists in the haven can be declared an enemy of the clouds, or a threat to the pigeon-toed frog, and must be thrown in the dungeon. See how this works? We might as well throw people in a pond and see if they float? It's quicker.
Once-upon a time the AAS had esteemed scientists. If there are any left they had better speak up while they still can. The Great Garth Paltridge has:
"I just cannot understand how any science academy that is supposed to operate through rational debate can behave like this – that is, to use pure political brute force to prevent one side of the argument from putting its case."
SkyNews is clearly the main target now, but Tony Thomas presumes they have plenty of targets:
It's curious that Rita Panahi is the only ornery Australian individual actually named in the Academies' submission and citations. The major damage to the Academies' catastrophism is being done by Andrew Bolt on Sky, Chris Kenny in The Australian, the Spectator (Australia), Joanne Nova's world-ranked sceptic blog, the Institute of Public Affairs' bulletins and speakers, Tim Blair's blog for the Daily Telegraph (sadly, paywalled), Senators Malcolm Roberts and Pauline Hanson, the Nationals' ex-Minister Matt Canavan and ex-PM Tony Abbott, famed for calling climate science "absolute crap" and likening climate scientists – presciently – as "thought police".
All this sceptic output is re-cited and re-published on social media. Clearly the Academies would be delighted to see the media giants slapping "Misinformation!"  and "Code Violation!" labels on it, cancelling accounts, as LinkedIn has being doing to US sceptics, and down-ranking the material to oblivion on search engines.
I defy the  Academy of Witches and Warlocks of Science to define "climate denialism" in meaningful english — because it won't turn out to be people who deny we have a climate will it? We all know that "climate deniers" are really the people that deny that a foreign UN committee, or a computer model has a hotline to God.
The head of The Science Academy is Anna-Maria Arabia, who spent five years advising Labor politicians, and has been calling for legislation to silence climate skeptics since 2011, so it's not like she is a political animal with a bias dropped in to milk a brandname built over the last seven decades.
Dear 589 Fellows of the AAS: If it means anything to have a Fellowship, if you care about science at all, it's time to find a backbone. Ms Arabia is using your work to push her own agenda.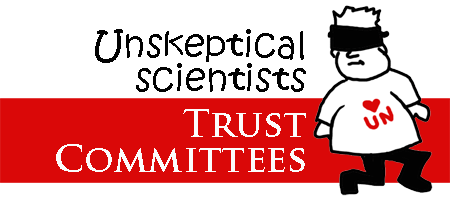 h/t Old Ozzie, Johnny Rotten