The Conversation accidentally provides a great case study in confirmation bias
It's how the fake consensus in science was created in the first place. Just sack the skeptics, poll the survivors, and pretend you've "discovered" something scientific!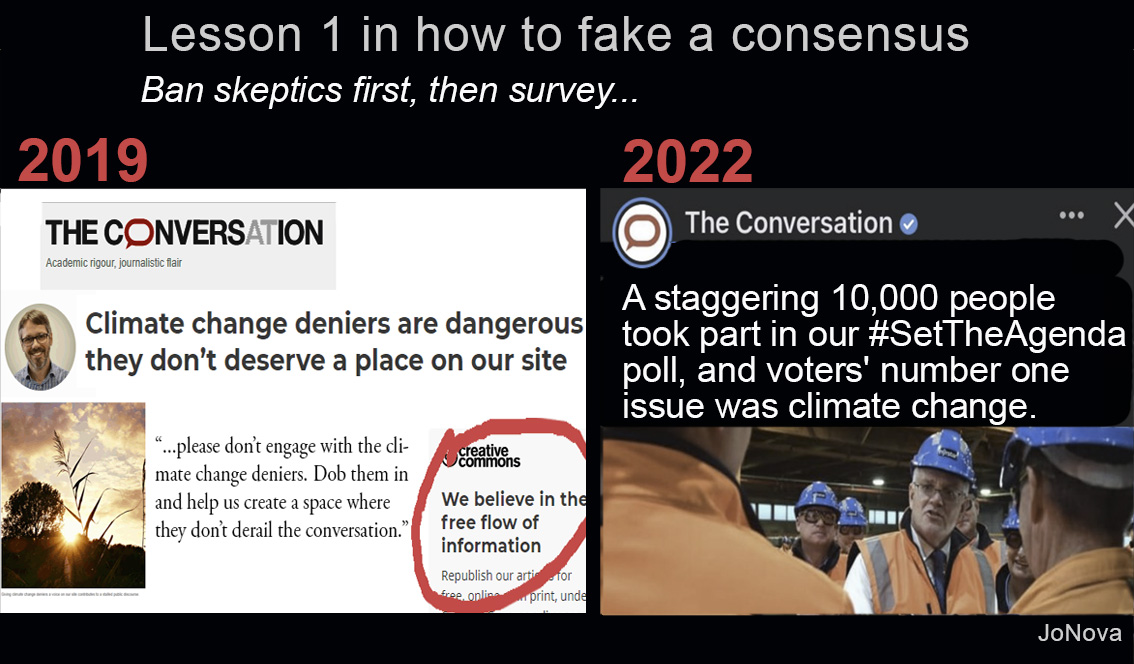 The Conversion gets excited in 2022
"Climate change was overwhelmingly the number-one issue on our readers' agenda. In fact, more than 60% of you picked it…"
We wonder what they will do with the other 40%?
People were asked to pick three topics from a set list, so the 60% is inflated too.
Flashback to 2019:
What kind of conversation only has one side? Paid propaganda.
by Jo Nova
The Conversation is a site established** by your taxpayer dollars, in countries where 50 – 60% of the entire population don't agree with the IPCC's dominant mantra. Yet no matter how qualified you are, no matter how good your argument, your evidence and your data, you, we, half the population, is now banned. The editor Misha Ketchell has officially  blocked unbelievers, and thus effectively admitted that they can't reply to skeptics, and that skeptics are posing too many questions they can't answer. They've been deleting skeptical comments for years, so it's good that they finally have the honesty to admit it.
The irony of a site called "The Conversation" which won't allow a conversation is perfect Owellian Newspeak. Let's just call it The Conversion from now on (thanks Travis) — the mission is to help converts keep the faith. Yesterday they published hatemail from Tim Flannery calling scientists who disagreed, deniers who are "predatory threats" to his own children. Today they're banning half the population.
The comments at the Conversation are everything you'd expect:
h/t Ben Beatty
*Typos may be deliberate.