Last week the NSW State government foolishly gave Malcolm Turnbull a pedestal to advertise his favourite ideology (and possible also help the investment profile of his son.*) Then they remembered why he was so unpopular he nearly lost the 2016 national election — even though he'd been handed the gift of a record 90 seat majority created by Tony Abbott. They also remembered what a bomb the climate debate is in any election — where 90% of everyone says they care about the climate but almost no one actually votes to try to change global weather.
So one week later, Toxic Turnbull has been dropped like the radioactive-Labor-lite-rock that he is.
What were they thinking?   In the last ten years, the only time "climate change" has been a winner is when a politician campaigns against it — like the Axe The Tax plan of 2013. In 2019 Labor lost the unloseable election by being anti-coal. The recent historic crushing of the conservatives in WA who had an anti-coal agenda must have shaken the party controllers to the core.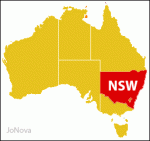 Last week Turnbull was offered the gift position to chair a new body called Net Zero Emissions and the Clean Economy Board. Two days later the MP for the Upper Hunter (a coal mining area) resigned because of rape allegations. Suddenly a byelection was called — and the conservative state government was faced with an existential dilemma. They couldn't afford to lose one seat, yet Turnbull — who was unaware of the byelection coming — was creating headlines calling for moratoriums on coal mines when the voters the NSW government suddenly cares about are in a coal mining electorate.
One Nation and Mark Latham (a former Opposition Labor leader, for foreign readers) pressed the obvious DefCon1 button. The Turnbull appointment "anti-coal" and an "insult to the electorate".
"Malcolm Turnbull should never have been appointed as the NSW Government's Climate Chief, because, in reality he is an anti-coal activist with clear property financial interest that have led him to lobby against job-creating coal projects in the Upper Hunter region," Mr Latham said.
Malcolm Turnbull sees a media conspiracy, not a voter backlash
Up pops the Big Conspiracy Shield:
Former prime minister Malcolm Turnbull says the NSW government has capitulated to a "ferocious campaign" from the media after his appointment to a clean energy board was overturned.
Mr Turnbull, who has been a fierce critic of News Corp, said the government had caved to pressure from the Murdoch press by reversing his appointment. "There was a pretty ferocious campaign, a vendetta, really, in the characteristic way that News Corp operates," Mr Turnbull said. "Its goal was to bully the state government into not appointing me chair of this net zero board."
–– ABC and or MSN (Microsoft News?)
And thus the conversation wheel turns back to the media. Nobody mention the voters.
If there is any bullying here, it's by the electorate who are fed up with the regressive UpperClass, anti-coal, anti-jobs and anti-cheap energy plans. This is the power of the voters. (Isn't that a great and marvellous sentence to read in 2021?)
Appointing Turnbull was like getting my "pants pulled down" says NSW Deputy leader:
That bad eh?
NSW Deputy Premier John Barilaro said on Nine Radio this morning that he was embarrassed he had agreed to Mr Turnbull's appointment.
"I gave the benefit of the doubt to the Liberals and the benefit of the doubt to Malcolm Turnbull and he pulled my pants down within 48 hours," Mr Barilaro said.
–– ABC and or MSN (Microsoft News?)
The Sydney Morning Herald (SMH) calls it "bad timing" and "bad luck" for Turnbull, who "probably had to go" given the situation — but would have been fine if he'd been appointed after the election (because who cares what the voters want?).
But the SMH editors suddenly care about coal workers and argue that committing to the anti-coal agenda would help the coal industry, because since five minutes ago they are investment gurus and global coal supply experts:
Since coal demand is likely to fall, if too many new mines are approved, it will likely cause an oversupply in coming decades. Such a coal glut could threaten the financial viability of the coal mining companies, which in turn raises serious concerns about whether they will have the cash to remediate the scars all over the upper hunter left by open-cut mines.
How to lose elections — Flog the climate scare:
Turnbull tried to push through an emission trading scheme in 2009, and lost to the climate vote as opposition leader, he nearly lost the National Election of 2016, he lost the party leadership again in 2018 trying to force through a National Energy Guarantee. The Climate Horse is so dead it's a fossil. When will they learn?
*Does Malcolm Turnbulls son Alex still benefit from a pro renewables policy in Australia? 
[2017] Malcolm Turnbull should come clean and explain to his party and the public that his son, Alex is heavily invested in wind power outfit, Infigen and did so at a time when it was on the brink of bankruptcy.
In one of the luckiest bets of all time (see our post here), Alex Turnbull managed to buy in when Infigen shares were a measly $0.20, just before his Dad signed Australia up to the Paris Climate Change agreement, after which they rocketed to $1.20.
If Turnbull's family invests in renewable energy, why isn't that mentioned each time he talks about it?
Posts showing that voters don't vote for "Climate Change"
h/t David B