"Paris" is rock solid and on the brink simultaneously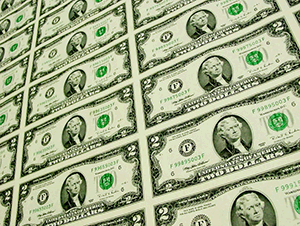 In a kind of Schrodinger's-Agreement Paris means everything and nothing all at once. The Grand Emissions-Mouth says every country on Earth has signed up except the US.  The Giant Money-Mouth says it's unravelling, an emergency and on the brink.
How can that be? Spot the pea. This strange superposition can exist because the emissions agreement is vaporware: 200 countries signed up but almost none of them are going to meet their agreement and no one cares. On the money side though, almost no one is going to give or get what they expected, and it's a complete bunfight down to the last comma.
It was and always is, about The Money
No one gives a toss about the CO2:
Environment groups have claimed the Paris deal was "on the brink" after an emergency meeting in Bangkok at the weekend failed to reach consensus on crucial details on how the agreement would be managed.
The body established to distribute the limited funding that had been raised to date has been gripped by turmoil. A meeting of the GCF in July disintegrated into acrimony over who should control the money, leading to the resignation of Australian chairman Howard Bamsey.
The cash cows want to issue loans they can get back or use for power games. They want transparency and control. The cash-cowees want freedom to spend their free money, and want it to be more-more-more than just rebadged foreign aid. Who wouldn't?
Negotiators said a key issue had been whether loans could be counted as part of the $US100 billion a year financing promise.
The Bankok bunfight was meant to settle the rules on money before the next two-week COP junket in Poland in December when thousands of activists and activist-scientists are rewarded for their faith and creative interpretation of raw data.
Wikimedia: US Dollars in Uncut sheet.  Christopher Hollis for Wdwic Pictures