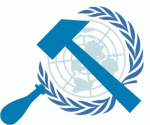 The next annual giant UN climate junket was due to be held in Santiago, Chile  on Dec 2 – 15. But protests have driven the country into a state of emergency, 20 people have died, and 3 of the countries six train lines are not functional. It's so bad, it may take six months to restore the train lines. The protests are reminiscent of the Yellow Vests in France — they started over a minor hike in prices (to train tickets) but escalated rapidly, are largely leaderless, but are obviously very angry.
Chile's president has just, tonight, pulled out of hosting both the UNFCCC conference, and APEC as well.
A few days ago both sides of politics were claiming the protesters as their own. But with this extraordinary news it's going to be hard for Saint Greta's team to say that the protesters want carbon taxes and climate action which is why they destroyed the trains.
Chile cancels climate and Apec summits amid mass protests
Chile has pulled out of hosting two major international summits, including a UN climate change conference, as anti-government protests continue.
President Sebastián Piñera said the decision "caused him a lot of pain" but his government needed "to prioritise re-establishing public order".
Apparently the train fares were rising partly because of renewables:
James Taylor, Heartland, Epoch Times
Santiago Metro fares are rising, despite falling oil and gasoline prices, because government officials in 2018 traded out most of the Metro's energy sources from conventional power to wind and solar power. The Chilean government also hit the portion of conventional power that remains with new carbon dioxide taxes.
In 2015 Chile was the first country in South America to enforce a carbon tax of $5 a ton. The actual dollars didn't start coming out of people's wallets until 2018. The government expected to collect $160m in taxes, so that's less than $10 per capita. But as we all know, there are hidden costs with the "transition" to random energy generators, perhaps the knock on costs are much larger?
This what a real state of emergency looks like — not like the "climate emergencies" we see all the time:
Since last Friday, the country has seen barricades in the streets, the army deployed in the capital, subway stations burned and thousands of people banging cooking pots in massive "cacerolazos", or casserole, protests every night, defying the first curfews imposed since the Pinochet dictatorship. A state of emergency has been declared.
The metro in Santiago has been severely damaged, with several stations attacked. The government has recognised the system won't be completely restored for more than six months. Only three of the six lines are now functional and just a few stations are open.
In just over five weeks time, tens of thousands of UN climate delegates will be trying to reach the Cop25 venue on the outskirts of the city. It is close to Cerrillos station, on the relatively undamaged Line 6. But Line 1, which goes through the centre of the city where most hotels are located, has been hit hard.
 It's hard to know what the protesters want from far away. The usual news sources are saying the usual catchphrases like "income inequality", and twenty years later, still "Pinochet".
Chile is notorious for its income inequality: the gap between rich and poor has widened in recent years as the combined wealth of its billionaires is equal to 25% of its GDP.
But inequality is multidimensional: Chile's employment rate languishes at 55%, ..
But perhaps most importantly, they feel discriminated against and humiliated in all these areas as they battle with inadequate public services that fail to level the playing field.
 Maybe Chileans are sick of being treated like dirt, and lectured to by elites that look after themselves at everyone else's expense.
h/t Dave B, george, GWPF.