The impossible conundrum: Going Netzero cancels your ability to get to Netzero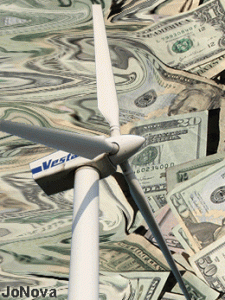 The industrial death spiral grows: Europe is the king of renewables and it's also got the most expensive energy in the world making it impossible for the EU to make the things it needs to get to NetZero.
The EU lost their solar panel factories to China years ago, and the wind industry was worried they were going the same Sino way the solar industry went. A few months ago, the Vestas chief admitted that they were losing money on every wind turbine they sell. (Good thing their orders were collapsing, eh?)
Now the Volkswagen chief warns that things are so expensive, it soon won't be viable to make electric cars and batteries in Europe either — which must be a bit of nasty surprise given that they just started building the first of six planned battery factories in Europe.
How fast those balance sheets change…
Naturally, the whole industry is calling for more subsidies. Obviously they can't ask for what they really need, cheap energy.
Tristan Bove, Yahoo News
Europe's energy crisis is leaving the continent's industry at a standstill, and its biggest car manufacturer says competitors are racing ahead as EU governments fail to provide enough support.
"On the international stage, Germany and the European Union are rapidly losing their attractiveness and competitiveness," Thomas Schäfer, brand chief executive officer at German carmaker Volkswagen, wrote Monday in a LinkedIn post.
Schäfer said that Volkswagen, and other European carmakers, risk falling behind competitors in the electric car manufacturing space due to high energy prices, as the crisis puts the whole of European industry at a disadvantage.
"We are treading water," he wrote. "I am very concerned about the current development regarding investments in the industry's transformation. This needs to be urgently prioritized—unbureaucratically, consistently, and quickly."
He also warned that Volkswagen could not afford to make batteries in the EU either:
Politico
"If we don't succeed in quickly lowering energy prices in Germany and Europe, then investments in energy-intensive production, or for new battery cell factories, in Germany and across the EU will no longer be feasible," he said.
Maybe it's no coincidence that Volkswagen are searching for new sites for battery plants in Canada?
It's a bloodbath in Europe for the wind industry
Haley Zaremba, Oilpatch
…across Europe, major wind turbine makers are reporting massive losses and laying off swaths of employees. Just this month, Denmark-based Vestas Wind Systems, the largest maker of wind turbines in the world, reported a third-quarter loss of 147 million euros (about $151 million). General Electric, another major wind turbine producer in the United States and Europe, reports that its renewable energy unit is likely to report a $2 billion loss at the end of the year. Spanish company Siemens Gamesa Renewable Energy, a Madrid-based company that is a leading producer of offshore wind turbines, reported an annual loss of 940 million euros ($965 million) and has announced spending cuts which will incur 2,900 job losses – approximately 11% of the company's workforce.
Here's a clue about why wind power can't compete:
According to the CEO of Siemens Energy, the issue is supply chains. "Never forget, renewables like wind roughly, roughly, need 10 times the material [compared to] … what conventional technologies need," said Christian Bruch in an interview with CNBC's "Squawk Box Europe. "So if you have problems on the supply chain, it hits … wind extremely hard, and this is what we see."
With slower production due to supply chain problems, the wind industry is stuck — still trying to deliver orders from the pre-covid era at prices that are impossible, to an audience that is strapped for cash and selling a product that no one really needs.