Someone could have died. A bomb was thrown through a window of a Michigan home on Saturday night. The homeowner can't think of any reason he could be targeted except for the Trump signs on the lawn. A second bomb was thrown at the car in the driveway.
Nothing is known about the motive or the criminal. Is it a mental illness, a mafia thing, a drug deal gone wrong, a mistaken address? If this was a Democrat supporter's home, it's easy to imagine we would have seen this footage on TV ten times since Sunday and heard how evil and violent Trump supporters are. Instead, crickets.
One of the things the Democrats are surely most afraid of now is Trump supporters gathering en masse, be it on the street, or online, or under a hashtag.  They wouldn't want Trump support to be obvious, or popular, and an attack like this (regardless of whether it was political terrorism) means many Michigan homes are probably packing away the Trump signs, just in case. In an information war, even lawn signs advertise the number of people who don't buy the fake news or believe the election was fair.
Is the US on the verge of a national emergency?
ZeroHedge: A Michigan homeowner says he was targeted in a middle of the night bomb attack which left a hole in his living room likely because he is a well-known Trump supporter. He also has multiple pro-Trump signs and banners on his front yard.
Police and media have interviewed the St. Clair Shores resident, just outside of Detroit, after the bombing was caught on tape. He wishes to remain anonymous for fear of further reprisal as police investigate.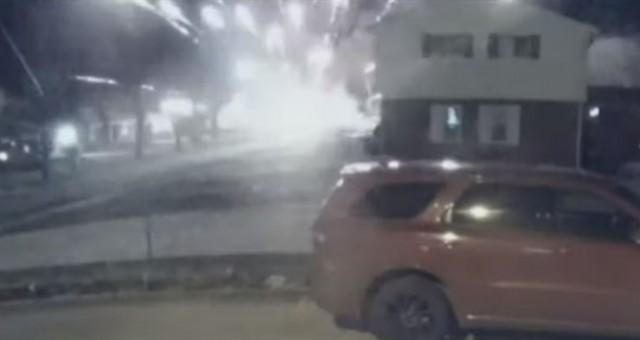 He's offering a $10,000 dollar reward for information that identifies who did this.

….
As a related aside: Others are asking questions about the car accident last Friday that killed Republican Kelly Loeffler's young aide who also happened to be the boyfriend of the daughter of Georgia's Governor Kemp. Coincidentally, or not, Kemp finally, belatedly, called for a signature audit the day before this accident. Harrison Deal*, the only person who died in the crash, was just 20 years old. Many locals report heard a loud explosion at the time of the car accident. Was the car electric? Is there a reason why the flames are so extraordinary?
We hope it gets investigated properly, but with so many lines in the sand being crossed it seems naive to ask the question.  Loeffler is one of the two Republican candidates running in the Senate runoff elections in a few weeks that will decide who gets control of the US Senate. It's not like the fate of the country depends on a small number of key people at the moment or there are trillions of dollars of trade deals and vested interests at stake.
Obviously, we don't know what really happened, but we do know that there are a wide circle of people during this historic turning point who must need protection and who may be feeling vulnerable. Don't underestimate the pressure family members can put on a candidate to keep their head down.
UPDATE: Still no clues about the size of the flames or the sound of an explosion but one newspaper says he and other cars were hit from behind by a flat-bed truck.
What are the odds?
*Harrison Dean corrected to Harrison Deal.